Yesterday afternoon, the girls and I came home from a week in NYC (more on that trip later). On the way home from the airport, we stopped at our local grocery store to pick up a couple items so that we wouldn't be eating frozen peas with barbecue sauce for dinner-- a little bit of fresh produce to tide us over until Saturday when we'll stock up at the farmer's market, some zit cream for the family reunion of pimples that is partying on my face, and some soymilk. When we made our way over to the milk section, my jaw literally dropped.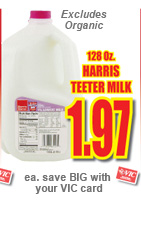 I cannot remember the last time I have seen a gallon of milk less than $2.00 and more often than not it has been over $3.00. For a second, it made me a little sad that we don't do dairy anymore (*see below if you're interested in why we gave it up). But then I went over to grab my soymilk and saw that it was no longer $3.99 for a quart, but $2.47! I have no idea why the prices have suddenly dropped but I am NOT complaining!
This got me thinking—because this is what we use for our cereal (and in baking or smoothies) almost every day, even if they raise the price, we're probably still going to buy it. There are lots of things that I will only buy when they are on sale, but soymilk is not one of them. I generally base what fruits and vegetables we'll be eating on what is a good deal that particular week. I stock up on non-perishable and frozen items when they are on sale. But if we're out of milk, I'm gonna buy it whether it's on sale or not.
What are some things that you ONLY buy when they are on sale? If milk went up to $10 per gallon, would you still buy it? What are your splurges?
*About a month or so ago, we decided to take Kendall off of dairy to see if it helped her outdoor allergies—it was an amazing difference. She no longer needs to take the two daily medications that her allergist prescribed! But because of that, I decided that our whole family would give it up so that she didn't feel like her alternative wasn't as good as what the rest of us were using.