Six years ago, I decided to make an advent calendar for my little sister for Christmas.  It was definitely a labor of love and took me MUCH longer than I had hoped it would.  Thankfully, I think it turned out pretty well.  (Sorry about the fuzzy picture!)
I wanted to make one for MY kids, but every time I thought about it, I chickened out when I remembered how long the first one had taken.  The first time around, I made each individual pocket, traced and then cut out each number out of cream fabric, ironed them on with Wonder Under, and then stitched around each one to make sure they wouldn't come off.  Was NOT doing that again!  So, I put it off and put it off.  Well, a couple years ago, I happened to find some Christmas numbers on an Etsy shop and knew that was going to save me!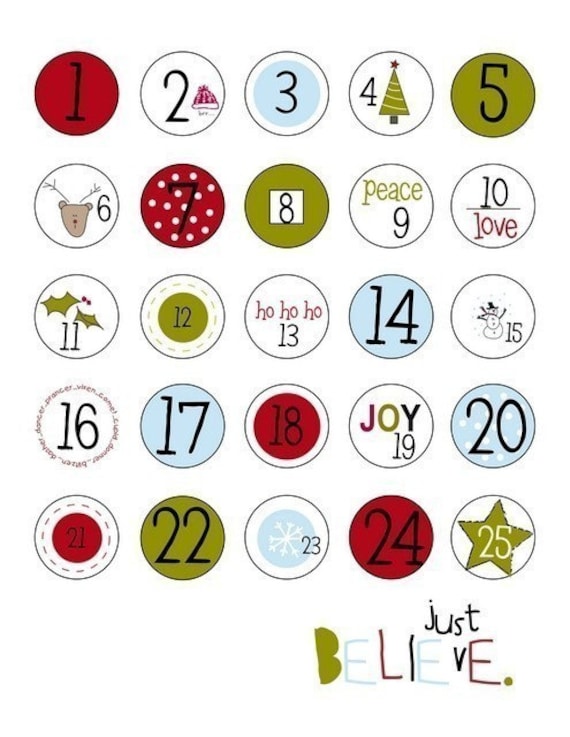 The numbers were already printed on iron-on fabric, so I just had to cut out each one and iron them on to the pockets that I made.  I also stitched around each square to make them super secure.
I already had these tiny wooden ornaments from when I made my sister's calendar (they came in a set of 48 and I only needed 24 for hers plus a star for the last day).
I designed it all myself, but don't look too closely cuz it's not quite done.  The edges are unfinished but I didn't want to go another year without hanging it up, so we're using it anyway.  Hopefully next year it will be complete!  Here's how it looks with just a few days left till Christmas!
I remember as a child getting so excited when it was my turn to take something out of the pocket and put it up on the calendar.  My version of the calendar is slightly different than the one my mom had, but I'm glad we're keeping this fun tradition alive!  THREE DAYS TO GO!